Congratulations: MBA 2008 intake
Published February 2, 2010 by Gillian Hunter
The 2008/09 LATI case study project MBA students all graduated last week. I'm delighted to report that four out of our group of ten have achieved distinctions.
Huge congratulations go to Edward Kapili, Carmen Lo, Arthur Katende and Rob Crane on achieving distinctions in your MBA at the University of Leicester.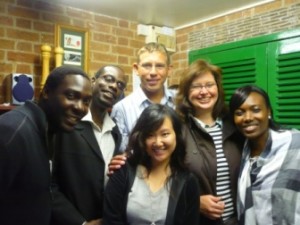 Photo: Social event held to celebrate the successful completion of the LATI case study project, attended by 2008/09 MBA students: Arthur Katende, Edward Kapili, Rob Crane, Carmen Lo, Gillian Hunter and Bodunrin Oyedele 
Thanks to all the University of Leicester Business School students who took part in the 2008 /09 LATI case study project. You worked hard - and are now reaping the rewards! Deservedly!
Case studies created by students from the University of Leicester can be viewed on the LATI website