DeMontfort University Thanks
Published May 5, 2011 by Gillian Hunter
Thought I'd share this with you ... over the moon that a talk I gave earlier this year has inspired the next generation of marketers, business people and entrepreneurs!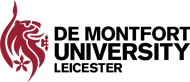 Dear Gillian
With reference to your visit in February here....
 As part of my students assessments they have to finish their course with me by  writing a reflective essay on their experience on the module 'The Art of Selling & Negotiating'
 I just had to write to you because I have just marked all of them and without exception they all mention your talk to them with absolute enthusiasm and inspiration!
They really did so enjoy it I thought you should know I knew they had enjoyed it from the comments afterwards and of course was not surprised but when students remark again 3 months later with no prompting and say how much it meant to them ... well I think you should know!
 It is brilliant when entrepreneurs really inspire and support our students and they DO appreciate it...Q.E.D !!
So many thanks again
Edwina Goodwin
Senior Lecturer
Module leader
Leicester Business School
De Montfort University