Dubai Marina: ten years on
Published February 2, 2010 by Gillian Hunter
Ten years ago I worked on the Dubai Marina project. It was fantastic. Probably one of the most exciting projects I've ever worked on. I hadn't visited Dubai in the intervening ten years - and was overwhelmed by the place when I stopped off there a couple of weeks ago. Dubai Marina - is no longer a scale model. It's more than lifesize. However, is it the city we thought it would be?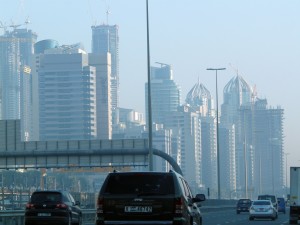 In the summer of 2000 we created the vision for Dubai Marina - working in Dubai for a good few months showing Emaar and the powers that be how that vision would work.
A small team of very talented web developers and a digital graphics person developed an extremely advanced web demonstrator - showing a city connected at 100MB/sec. Phenomenal - even at today's standards!  
Our Dubai Marina demonstrator showed how the entire city would be connected and integrated. It would be the city of the future. A great place to live, work and play. A place of family and community. The great thing was the idea of applications integration.
Over the last ten years we have slowly seen the introduction of great new applications over the web: home shopping, social networking, healthcare online, education, eGovernment - over the web and mobile. It's all happening. I'm just waiting for the next leap ... into real applications integration. Real intelligent connections with people, places, organisations, and public services.
If we could imagine it and demonstrate it in 2000 - it can be achieved now. The technology and infrastructure is there. In most cases. We were a little ahead of our time in 2000.
However, if you look at how seamlessly people have adopted new technologies and applications over the last ten years. How our lives have been transformed by the simplest of applications and services. How much more connected we are. Then, it's only a matter of time.