First Prezi - a presentation game-changer
Published June 24, 2011 by Gillian Hunter
Have known about Prezi for a while, but haven't tried it out. What a revelation. Really don't know why I didn't give this a try before. It's fabulous!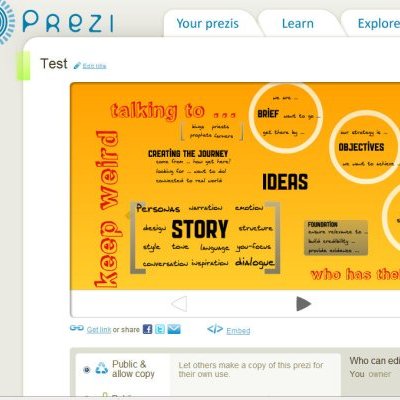 It's presentation, but not as we know it. For one, it isn't linear. That suits my hap-hazard presentation style. Helps me to jump from on idea to the next and go back.
It's so simple - it's brilliant! I was sharing the presentation online with a client immediately. He could take over the presentation role, and if I'd learnt how to fly the thing properly, could have got him to edit it as well! 
Is a long time since I've enjoyed using online software as much. It gives you enough creative freedom. And, just love the big picture aspect > the ability see the entire presentation on one page. It is like a mindmap.
Remember our early, clumsy usage of tools like Visio to create salestools and complext presentations. This in comparison is a doddle to use. Ridiculously easy. But I suppose we all had to start somewhere. What happened to Visio? Nobody I know seems to use it anymore!
Anyway, here's my first ever Prezi - created in about an hour - including listening to the tutorials: