Happy Thanksgiving: reasons to be cheerful
Published November 27, 2008 by Gillian Hunter
A very happy Thanksgiving to all our American friends, family clients and all the special people we've met on our travels in New York, Boston, Pittsburgh, San Francisco and San Diego.
However, Thanksgiving needn't be a exclusively for those born across the pond. Those of us living in blighty and the antipodes can also take time out to reflect about the good things in our lives ... [caption id="attachment_319" align="alignnone" width="300" caption="Pumpkin pie"]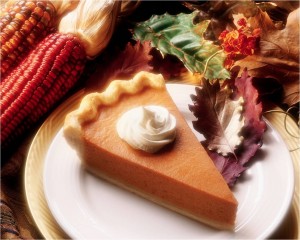 [/caption]
It's made me think about all the things I'm thankful for:
Friends and family of course
Clients who've a passion for what they do
People who enrich our lives
Inventors, creators, artists, authors and poets
Projects that stretch and challenge
Fascinating things to write about
Technology that helps us stay in touch
Books that nurture the mind
Time to walk in the woods
For lime and cilantro
For the little things in life
What are you thankful for this Thanksgiving?