How do I create a great CV : stealing ideas from marketing
Published April 12, 2011 by Gillian Hunter
Want to create a great CV that gets read and people take notice of? You can, using some very simple marketing techniques. We've helped a few friends to hone their CVs and land fabulous jobs, by using common-sense marketing techniques.
Thought we'd share some of that learning here.
STOP! Before you pick up the phone ... we don't offer CV writing as a service. This is just a little something to help you land a great job!! The hope is  you come back to us to help you with proper marketing, or refer us to people who need our marketing expertise!
There are three simple guiding principals to writing a great CV:
You need to know what your prospective employer is looking for! What skills they need, what challenges they have, and what will turn them on?
One: understand your prospect.
You need to know what skills, capabilities and strengths you have that answer those needs.
Two: understand what you have to offer.
Sell how you have helped others with those  same challenges.
Three: promote your relevant experience.
We use a simple, clean template for writing CVs as follows:
Front Page = Sales Page
You either capture or lose their interest on the front page.  Make sure that the first page people read has impact. It needs to "ring all their bells".
Our "CV Front Page" formula works because its to the point and because it focuses on your prospect employers needs and wants. It usually includes:
Name, qualifications & contact email
Pitch statement
Summary introduction
Unique Selling Point - USP
3 Hot Button - personal characteristics
Career Achievements - relevant to job
Where to Next - why want this job
Personal Details - relevant to job
Descriptive "Power" Words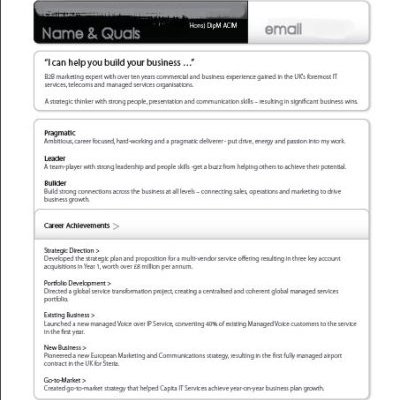 Name & Contact: Use your full name, followed by qualifications in a smaller fontsize. Add your email address - nothing more. Use your own website email address - rather than a gmail, hotmail, or yahoo address - to add a more professional feel.
Pitch Statement - Ask: What can I do for this particular business or organization? What is the one thing I can do for them that they really need help with?
For example: "I can help XYZ to find profitable new business." That statement is your headline.
Summary Introduction - Ask: Who am I, what do I do, and what experience do I have? That is relevant to this company! Keep this section short and to the point. Think keywords.
For example: "B2B marketing communications specialist with 15 years commercial and business experience gained in the UKs foremost telecoms and managed services organizations." That is your introductory paragraph.
Unique Selling Point - Ask: What is different about what I can offer this organization? How am I unique? Why should they appoint me? Think what they'd be looking for. Powerful and to the point:
For example: "A strategic thinker with strong people and communications skills - resulting in significant business wins." 
3 Hot Buttons - Ask: What personal characteristics do I have that the company would be looking for? Choose three words that will resonate with your prospective employer! Then back this up with a summary statement - to explain exactly what you mean.
Use words such as: Leader, Builder, Connector, Ideator, Communicator, Organised, Pragmatic and so forth. Make sure these are top characteristics you display - and fit with what the company is looking for!
For example: "Leader > strong leadership and people skills - passionate about helping people to achieve their potential" 
Career Achievements - Ask: From my entire career, what achievements will be of interest and relevance to this organization? Choose no more than 5 major achievements with the most relevant at the top position. Give each achievement a simple heading, followed up with a summary sentence of what you did. Back it up with something factual. Figures are good!
For Example: "Strategic Direction: Developed a strategic business plan for a new online service - resulting in £100 million worth of new business in Year 1."
Where to next - Ask: What position / responsibility do I wish to take on next - that fits with this role? Keep it short.
For example: "Preferably a multinational high-tech company where I can build strong customer-connections, add ££ value to the business and drive growth."
Personal Details - Ask: Are there any personal details, critical to the job, I need to state on front page? For example, nationality, working permits, driving capability, geographic-independence. You get the picture.
For example: "United States of America Permanent Resident. Hold a British passport. Able to work anywhere in the world."
Power-Descriptors - Ask: What words sum up what I am like? Ask colleagues how they would describe you. Their view is how the world sees you. Use the power words as a visual element on the page. No more than seven words. So choose well. These are small snippets that help to tell the story quickly.
For example: "Organized + Professional + Reliable + Focused + Creative + Thinker + Deliverer"
That is my lot for today - will add a part two - where we look at the second page of your CV, which should be no less interesting than the first!
Please tweet this page. I will RT if you acknowledge me : @aardmaan
P.S. We're not professional CV writers, however understand how to market products and services. We apply the same principals to people. If you want to sell yourself - you need to market yourself. Simples ...