Merger rebrand : the story of Integrc
Published April 19, 2012 by Gillian Hunter
The story of Integrc
"Upfront we realized it would be a very challenging target to realize, but you made it! We have a terrific new name, a splendid looking website with good content, logo ... thank you for giving us a wonderful start to our journey."
Two of the world's leading specialists in GRC, CSI Netherlands BV and su53 Solutions Ltd, merged to create the largest independent GRC (Governance, Risk & Compliance) consulting firm for SAP clients in the world, and aardmaan was there from the start to help the newly formed company create a new brand identity.
---
This is the story of the formation of that new company.
The two companies had been working together for a number of years, and recognised that their combined expertise, capability and innovation would enable them to offer their clients the full range of GRC design, implementation and support services, and create a stronger business.
Both companies were eager to re-brand the merged business and create new marketing materials in time for the launch of the new merged company.
A Strategic Rebrand
Seventy Three Design was selected in a competitive pitch to deliver a new company name, re-brand, create new marketing materials and deliver a new website within three months. Vicki Lovegrove of Seventy Three Design approached aardmaan to support the project with strategic marketing workshops, company naming and content development.
Our goal was to help the two companies to merge by building a powerful brand - sending out a clear message that the company had gained strength and power from the merger and is a global leader in its field.
A powerful and relevant name
We needed to come up with a new name, brand identity and a new website - ready for launch to internal and external audiences for the first week of January. A tall order. The client expressed doubt that we'd be able to create a powerful and relevant name that resonated with their clients and would get buy-in from senior stakeholders in the time.
Thinking through every angle
Our first step was to understand the two companies strengths, values and capabilities.  We worked with the senior management team to gain a big picture view of the business - acting as a catalyst in developing a powerful business and marketing strategy. The process, though very intensive and painful at times, delivered the rewards of clarity and focus. Without this we wouldn't have come up with a powerful brand name or unique company positioning.
Finding a word that wasn't taken
We came up with dozens of names. A huge spidersweb of words - even looking at a combination of Dutch and English words. Then came the domain name test and we discovered that even the most obscure weren't available. 
But we found our word. And that word was available as a domain name ... in all its country variants too.
We decided we were only going to present one brand name. Of all the names we looked at - there was only one obvious choice.
The moment of truth
The MD was nervous and asked whether we had any alternatives to present to the board. We were confident that we had found the right name for their new company. A name that would be appropriate to their market, the company and their values.
That name is Integrc (in-teg-ri-see)
Smiles broke out around the room. The first response was: "I like it! That's brilliant!" and  "Where did that come from? Pure genius!"
We'd cracked it.
Now the hard work began, building on the strategy work we did prior to the board meeting and creating the content and design elements.
On 6th of January, as planned,  the company announced itself to the world! It had been a very exciting week and an exhilarating 3 months. We delivered more than expected > a complete new website that is market focused, new service portfolio, a reference library, customer information packs, new corporate brochure, internal and external presentations, corporate guidelines, corporate templates, a calendar and more.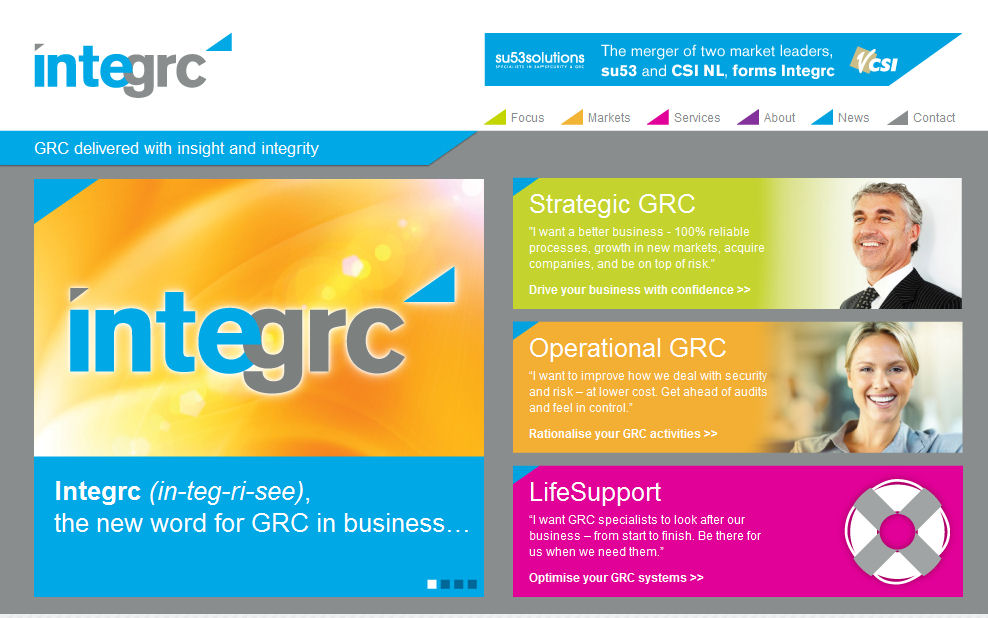 A name so appropriate, it made grown men cry
We could finally reveal Integrc to the world ... a name so appropriate to the market, the company and their values!
Launch day finally arrived and the feedback from the client was phenomenal. Everyone they've spoken to love the name: their employees, clients, partners and major stakeholders too.  
Accolades don't come any stronger than this > Michael Rasmussen, the man who coined the term GRC wrote to say: "Integrc, I love your business name, particularly when you pronounce it similar to integrity. Actually very jealous and envious that I did not think of that."