Brand new website for aardmaan
Published February 16, 2011 by Gillian Hunter
The day has arrived! Today is the day we launch our brand new website. A content managed website. I must say it is a joy to use. I didn't want a fancy website, but one that I could take control of - add content as and when I wish! I absolutely love it!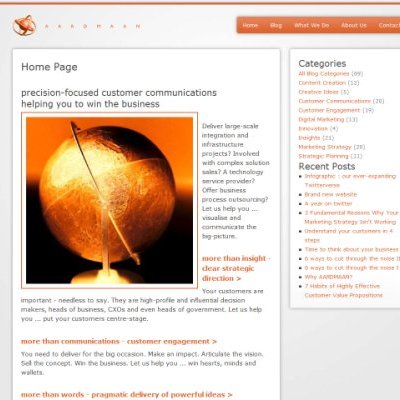 The Gravitas system gives me everything I need - and is incredibly easy to use. Even the metadata is incredibly easy to add.
A huge big thank you > to the very talented Malcolm Hollingsworth of Core13 who developed the Gravitas system - and tailored it to aardmaan's needs.
Add new content in a jiffy > It didn't take me very long at all to add content or create new pages. Intuitively as well - I must add. The Gravitas system has given me scope to add as many pages as I like. I won't be going mad just yet. However, must admit adding new content has become slightly addictive. You can really let your creativity have free reign.
Literally off the shelf > You can buy a Gravitas website directly from aardmaan ... as part of package that includes designing your site, creating your web strategy, and writing the content.
Starter and blog websites > We will be offering Gravitas "Starter" websites for smaller companies and sole traders - perfect if want a great site that you can manage yourself without any special knowledge or training. And Gravitas "Blog" websites - so that your blog is integrated into your own website and not hosted by a third party site. Always better when it comes to SEO.
If you want a fabulous new website that is really easy to use - get in touch.