Infographic : our ever-expanding Twitterverse
Published March 2, 2011 by Gillian Hunter
Here's a very handy tool for you to understand what's what on twitter. An ever-expanding universe of tools and applications for you to use. You couldn't possibly use them all - but is is good to know they are there - and select the tools most relevant to your business.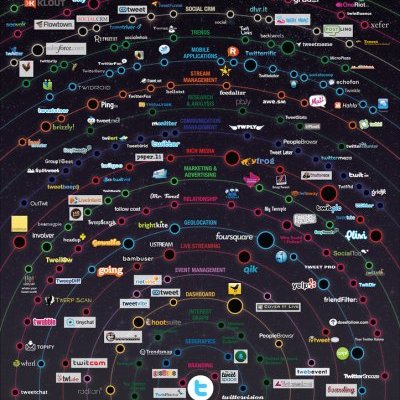 The twitterverse map - infographic > illustrates how quickly Twitter has grown - and the relvance to the business and marketing community. It has become industry in its own right.
Running rings around Twitter >  Constantly evolving, the latest map puts Twitter at the center of the stellar system, with apps orbiting at different rotations based on their design and functionality.
Ring 1: Branding
Ring 2: Geographics
Ring 3: Interest Graph
Ring 4: Dashboard
Ring 5: Event Management
Ring 6: Live Streaming
Ring 7: Geo Location
Ring 8: Relationships
Ring 9: Marketing and Advertising
Ring 10: Rich Media Ring 11: Communication Management
Ring 12: Research and Analysis Ring 13: Stream Management
Ring 14: Mobile Applications Ring 15: Trends Ring 16: Social CRM
Ring 17: Influence and Resonance
Ring 18: Twitter Search
Ring 19: Causation
Thanks to Brian Solis & JESS3 > for creating an infographic of our Twitterverse so we can learn more about the Twitter tools available to us - and allowing us to use it.