Requiescat in Pace : Emilienne Hunter
Published April 30, 2011 by Gillian Hunter
Our aunt Emilienne Hunter died on 13 April 2011
Born in the Seychelles in November 1936, Emilienne was a remarkable woman and led a remarkable life.
Emilienne's funeral is on Monday, 9th May at 10:40 at Barham in Kent. Family flowers only please - donations in lieu of flowers to Kingsdown Cat Sanctuary.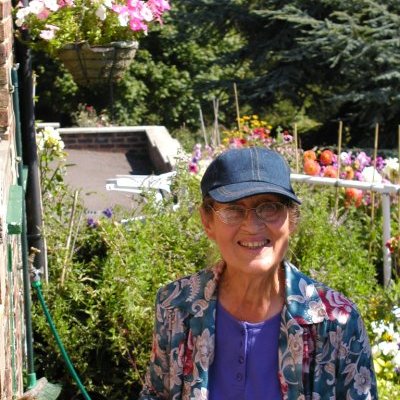 Emilienne was kind, generous, and thoughtful. A real character. Colourful. Some called her eccentric. She was just her own person. Simply remarkable. Everyone I've met loved her and talk about her with great affection. Sure, she was feisty, strong-willed and outspoken. But with a sense of fairness and doing the right thing.
She never slowed down in retirement. She was more concerned about others than herself - going to check on the old folk who lived near her every morning to make sure they were okay. She did their errands and shopping for them - right up to the weekend before she died.
Her life revolved around her pets. If she wasn't shopping or checking in on her neighbours, you'd find her on the common walking her dog at all times of day or night.
Emilienne had a soft-spot for the foxes that visited their gardens - feeding them every night with fresh meat from the butchers.  Her neighbours tell me that at night all they hear is the soft whimpering of foxes. Heaven knows what will happen to them now.
And she kept the local bird population fed and watered. A picture that will stay with me is around 50 pidgeons huddled on her roof this week - not moving. As if they were in mourning. There isn't a living thing she didn't care about.
Her garden was a delight - vibrant with colour throughout the year. And, we can never forget what an amazing cook she was - reknowned for her curries, fish dishes and Creole cooking. We all ate exceptionally well in her home. Her culinary skills inspired a whole new generation to cook and entertain. To live life to the full.
Her sister Villy who lives in Australia tells me:
"Emilienne was the eldest of 4 sisters and I was the youngest. Our mother died when I was 9 months old and we were brought up by our grandparents.

Emilienne was at the Government House dinner dance when Prince Phillip visited Seychelles in the 1950"s. We were all very proud of her when she danced with him.

She was working as a secretary to the Government Solicitor when she met the love of her life and future husband Captain Norman Hunter. They were very happy together and took me along with them on their trips around the Seychelles. Norman hired an old car and Emilienne and I had to get out and push at every hill. Lunch was often hard boiled eggs and champagne - a favorite of Norman.

I last saw Emilienne in July 1960. A day of drama when the Government Solicitor was leaving on a ship to Mauritius and I was leaving, on the same day, on a different ship to Mombassa and England. Passports were in the office together and her boss picked up the wrong one. He was already on board before the mistake was discovered. Emilienne came to the rescue  organising a police car and launch, with sirens blaring, racing out to the departing ship.

Emilienne's marriage to Norman was very happy and they were always together on land and sea. At one stage she was Chief Steward, with Norman as Captain, on a ship cruising around Seychelles with the rich and famous. Harbourmaster in Seychelles and Malta, and cruising in their yacht in the Mediterranean."

We shall miss you Yen - rest in peace with Norman.