Social Media: How do you measure its working?
Published March 5, 2010 by Gillian Hunter
Is the internet is key to your business success? Do you depend on the internet to drive business? Serve customers? Win new business? Makes online sales? Today, that means getting to grips with a totally new online tool: social media.
Is social media adding value to your business? The question isn't about what it is doing for you. Its more about what would you like it to do for you. Does it tick your business objective boxes? What do you want to achieve: drive traffic to your door - get the right people to take action - reduce business costs?
What are your social media objectives? Knowing what your objectives are - tells you what to measure. It also tells you to what extent you measure those items and the effort to gather the information. It is a matter of priorities and what's important to you.
What are your business objectives? For many companies its about increasing web traffic, increasing sales revenue, improving search engine rankings, increasing lead generation, increasing brand or product awareness or reputation. For others it is about customer relationships, improving customer support, reducing the cost of customer acquisition, and reducing the cost of customer support.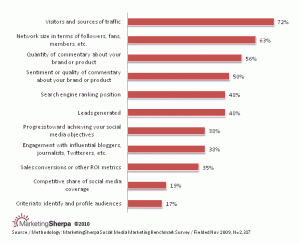 The social media metrics companies are measuring ... According to Marketing Sherpa's November 2009 Social Media benchmark Survey, companies are measuring:
Visitors and sources of network traffic - 72%
Network size in terms of followers, fans and members - 63%
Quanity of commentary about brand or product - 56%
Sentiment and quality of commentary about brand or product - 50%
Search engine ranking position - 48%
Leads generated - 48%
Progress toward achieving social objectives - 38%
Engagement with influential bloggers, journalists, twitterers - 38%
Sales conversions and other Return on Investment (ROI) metrics - 35%
Competitive share of social media coverage - 19%
What are you measuring - and why?