Are B2B trade exhibitions dead?
Published June 22, 2011 by Gillian Hunter
One of my lovely clients asked me whether I thought exhibitions were dead! They needed to decide whether it was worthwhile attending a particular tech show, or use other marketing tactics.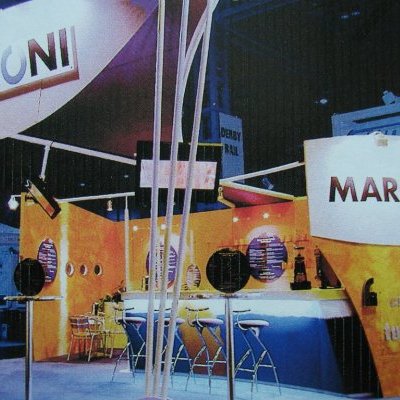 Have done loads of shows in my time. The big ones with budgets over £1 million. So, learnt a thing or two about design, planning, project management, running a stand, and managing the response process.
Even awarded most effective exhibitor (business shows) for this stand, which drew a phenomenal crowd to Railtex, a railway show! And we had a really small budget. In fact, one of our fellow-exhibitors offered to but the stand for more than our exhibition budget. They didn't realize the buzz created was more than the look of the stand.
You really need to do your homework before you rush into doing a show. We wouldn't go unless there was a clear ROI. In fact, on a number of occasions I firmly believed the money could be put to better use elsewhere - and provide longer-lasting benefits to our community and our bottom line.
Saying that, I don't think exhibitions are dead! You just need to work them really hard. But that is no different from any other communications vehicle you use.
You need:
vision
creativity 
a solid plan
structure
process
chutzpah
physical & mental strength
Customer Story - how to really work the room
I helped a client a couple of weeks ago at a one-day business show, which worked out extremely well for them. Their first exhibition ever. They had a small stand. Any more than three people at one time, and the stand was cramped.
But in spite of that we managed to talk to and get 88 enquiries, 27 of which were very good prospects and within days of the show had resulted in positive enquiries. Our target was half that.
It was incredibly hard work. We made sure we spoke to everyone we could who walked past our stand. The other exhibitors near us weren't as successful. One picked up steam in the afternoon when they started copying what we did. But, it was too late.
The partner of a solicitors firm opposite came to congratulate us after the show. He wondered over at the close of play and said he'd been watching us and commented that we'd obviously done exhibitions before and knew how to work them. He's another potential client.

You really need to stand out (excuse the pun)
At any show, and particularly where you're a smaller fish, you really need to be clever to shine. You simply cannot afford to be a me-too! You need to remarkable, else you merge into the background. No more than a wall-flower. And, nobody likes that feeling. It will demotivate your staff and burn a hole in your marketing budget.
If an exhibition doesn't work, it doesn't work big-time. And that's a lot of money to throw away. It's all down to the planning – and then being really motivated, inspired and people-engaging on the day. All day!
My 5 golden rules from days of old:
1.    Never attend a show unless you've been the year before and checked it out and the other exhibitors
2.    Obvious, but make sure our target audience is going to be there.
3.    Visualise the entire process – from designing stand and the pitch – to how you operate on day and stand rules – through to how you respond (and do this weeks before the event)
4.    Listen to what people want and are looking for – don't go straight for the sales pitch and bore them with what you do! It's about their wants and needs - you don't want to waste your time nor theirs.
5.    Respond immediately after the event. Arrange with your DM house for personalised letters to go out the very next morning – and get an allocated, responsible account manager to follow up immediately.
So, what did my client decide to do?
They took my advice. They decided not to take a stand, but to visit the show to check it out first. They're using the opportunity to review their business development and marketing strategy, and in the interim have initiated a cheaper and less-risky customer communications campaign.
The thought I'll leave you with, is that unless you're truly remarkable to the extent that people talk about your after the show - don't even think of going!
Interested in your views! Do you think exhibitions are dead? Has the game changed? How?
Talk to us via twitter @aardmaan - or drop us an email by clicking on the envelope icon at the bottom of this page.
Follow us: twitter.com/aardmaan