Twitter leads - Yammer follows
Published February 9, 2009 by Gillian Hunter
It doesn't seem like that long ago that people didn't know what twitter is. Today it is all over the media in the UK thanks to high-profile twitterers such as Stephen Fry who outed his habit on the new Friday Night with Jonathan Ross show recently.
Fry is certainly reaping the benefits of twittering - he gets it! Does it exceptionally well. And, he's great with words - and so sounds authentic - which helps a lot. But will he ever be able to escape from the land of the perpetual dawn chorus? I wonder! However, twitter isn't just for social and celebrity exchanges - it is a very useful business application. It stands to reason that where some lead - others will follow.
Trying to emulate twitter is enterprise micro-blogging site, Yammer, which I talk about later in this post. [caption id="attachment_355" align="alignleft" width="150" caption="twitter home page"]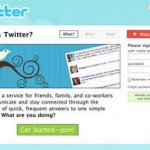 [/caption]
twitter's a bit like Marmite - some get it ... some don't Not everyone is convinced by twitter yet though. I've heard comments such as "I just don't get" ... "Isn't it just a lot of self-centred drivel" and "I can see why celebrities use it - but it's not for me"
wake up and smell the coffee - twitter is here to stay. It's certainly a force to be reckoned with. Dynamite comes in small packages ... but words in small packages can be more powerful than dynamite it seems. See the Stephen Fry interview on the new Friday Night with Jonathan Ross show enthusing about twitter ... which must have made the media wake up and smell the coffee. Particularly as it was JR's much published return to the BBC studios after his very public rap over the knuckles.
and so, the media catches on - at last It seems to take a while for these ideas to catch on in the press - and once they do you know the concept has passed the tipping point. A case in point is Lucy Atkins front page spread in the Saturday Telegraph Weekend section, twitter crazy. Plus, Lucy's accompanying useful tips on how to get more out of Twitter. Also read the Business section article by Josephine Moulds: "Small Talk that has become a very big deal."
twitter speeds over tipping point with over 6 million members Saying all that, it's amazing how quickly Twitter tipped. Okay, they've had loads of investment, but that alone doesn't do it. It has to capture the public psyche and business needs to be able to see the business benefits clearly too. A few celebrity users help too ... but this isn't a celebrity or social networking craze ... its a bit more than that it seems.
twitter bypasses facebook According to an article inThe Telegraph on 4 February 2009 Twitter traffic grew by 1191 percent in the last year, in comparison to Facebook's 110 percent. Can it be that Facebook is losing public trust!? Or, is this just the very fast "early adopter phenomenon" of the new connected era!?
but, what's in it for business?yammer, yammer around the office Trying to follow in twitter's wake is Yammer - launched in September 2008 - an enterprise version of twitter - that asks "what are you working on?" In their own words a "virtual water cooler" for your organization.
Let me know if you're using or thinking of using twitter or Yammer in your business? Do you have any interesting anecdotes to share? Would love to hear them ...
Business has begun to reap the benefits in terms of responding to customer complaints quickly, in crisis management terms, brand building customer service++. Though, there is talk that twitter will begin to charge businesses for using their service. Once real value has been established - it won't be long before twitter will have a dollar-sign hanging from it.