Could you be a victim of web theft? Hallam Case Study
Published April 5, 2011 by Gillian Hunter
A company stole an entire website. Lock stock and web-barrel: all the content, website navigation, unique marketing messages, layout, client testimonials, staff details. The works.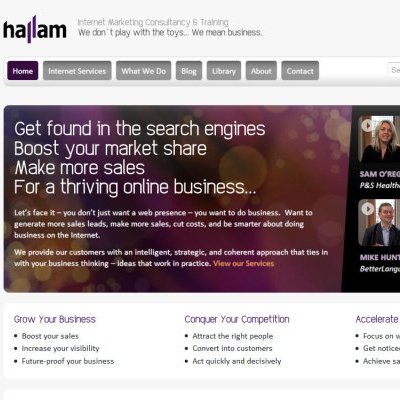 That website: hallam.biz - a highly respected internet marketing company. And, a valued client.
The newly launched Hallam.biz website > was the result of months of hardwork by a team of web specialists. Aardmaan was brought in early to help with marketing strategy, marketing messages and customer-focused content.
Other internet experts were also consulted > we spent hours working with Hallam and their web designers, attitude design to create a website that was easy to navigate and had impact. Brainstormed every page in detail - creating a wireframe and market-focused content that would be unique to Hallam.biz.
What the "sticky-fingered" company hadn't taken into account > is that the people at Hallam are smart cookies. They understand the internet. Beyond the level of most web-geeks. But, unlike many out there, practice what they preach. They're fastidious in checking their own analytics. Didn't take them long to suss that something was amiss. Here's how Hallam discovered, investigated and reported the Intellectual Property theft >
Susan tweeted: "The best punishment for web copyright infringement? Name and Shame ..."
It wasn't long before the offending party was dealt with: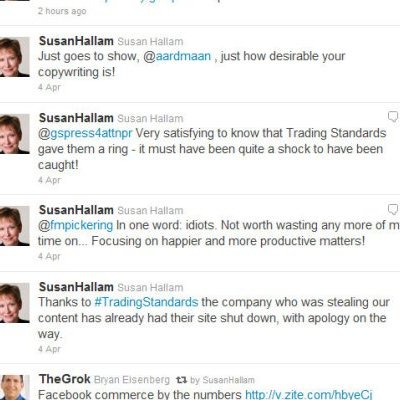 All's well that ends well > however what strikes me is that this company stole content and marketing messaging that they could not emulate. The brand approach and marketing messaging we created was unique to Hallam. Totally differentiated.
No-one else in the industry can rightfully replicate any of it > It wouldn't resonate as true or be credible. Why? Because our approach was to get very close to the customer. The brand identity, tone of voice and messaging was created in sync with Hallam's customer base. It's as unique as a fingerprint.
Hallam took swift action and the site has been taken down > thanks to intervention from Trading Standards - and in Sue's own words: "the best punishment for web copyright infringement is to name and shame:" Mouse2Design should hang their heads in shame. They didn't only steal from Hallam, they stole Intellectual Property from each and every one of us who worked incredibly hard to create Hallam's new website.
So, just in case, you are thinking of stealing text from a website > you will be stealing an artistic and literary work. Stealing from the artist! All original artistic works are protected by copyright. And not only by the artist, but by the artists descendents too. I should know - I am am an artist's daughter, and as a writer - an artist in my own right! With a unique style all of my own.
So, if you've stolen words from my website, or from any other web author, web writer or content marketer - you will be found out! Take a look at Intellectual Property and Copyright legislation. Better still, remove the offending material - now!
If you want to use the material legitimately, just ask > We'll have far more respect for you and probably help you find your own voice. That's far better than stealing someone else's!
Read Hallam's "Mouse2Design: Infringement of copyright" blog post! The post has useful insights and information if you believe you may be a victim of content-theft!