How to launch a new business in three months
Published January 8, 2012 by Gillian Hunter
"NewCo" Project Timeline > Three months from start to finish
It has been quite a week for aardmaan. Besides celebrating our tenth year in business, we also celebrated the launch of a major player in the SAP GRC space. This is the story of that strategic rebrand - and how it took us just three months from initial brief to spectacular launch. 
---
SeventyThree Design contacted us in September about a potential client project. We pitched against two other agencies, and won the contract on 6 October. The project was to create a new brand identity for two leading consultancy players in the SAP GRC space who were merging. They wanted a new web landing page, and material for internal and external launch.
On the 4th November, we presented to the boards of the two companies - one Dutch and the other British. Our proposal included a brand new company name. Don't think they thought we'd come up with a brand name everyone would liked, but the first response was: "That's brilliant! Where did that come from? Pure genius!" Now the hard work began, building on the strategy work we did prior to the board meeting and creating the content and design elements.
On 6th of January, as planned,  the company announced itself to the world! It was an very exciting week and an exhilarating 3 months. We delivered more than expected > a complete new website that is market focused, new service portfolio, a reference library, customer information packs, new corporate brochure, internal and external presentations, corporate guidelines, corporate templates, a calendar and more.
My twitter feed tells the story >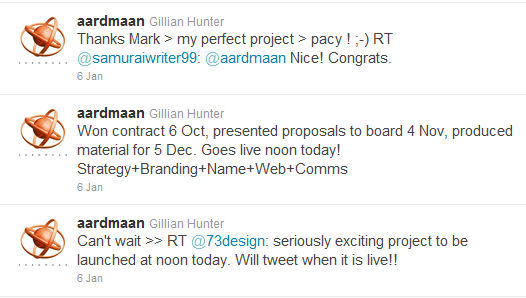 The name of the new company, we can now reveal is Integrc (pronounced In-te-gri-see). Delighted that domain name was available! In all its variations too. So appropriate to the market, the company and their values!

Integrc goes live > 6th January 2012
Launch day finally arrived and the feedback from the client was phenomenal. Everyone they had spoken to loved the name: their employees, clients, partners and major stakeholders too. The website: www.integrc.com went live - on schedule.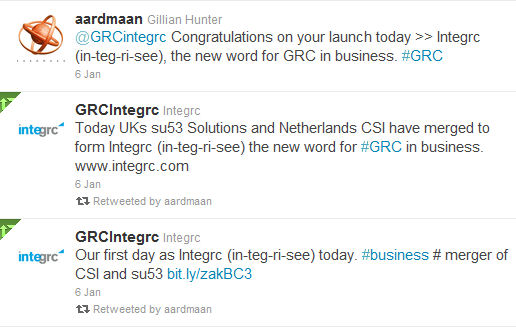 "Upfront we realized it would be a very challenging target to realize, but you did make it! We have a terrific new name, a splendid looking website with good content, logo ... thank you for giving us a wonderful start to our journey."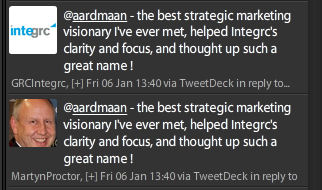 And, CEO of Hallam thinks so too ... great to get the recognition. Don't ask for references near often enough (note to self)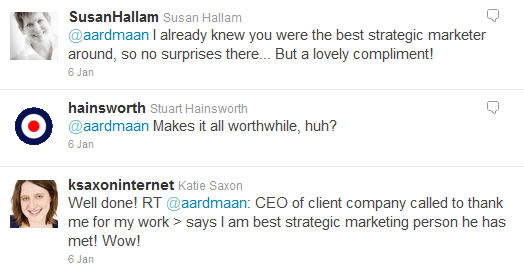 This couldn't have been done without teamwork - so thanks to Vicki of SeventyThree Design for getting me involved and the rest of the dream team for pulling this off > @_sixpm @robthedog and @73design - and of course our amazing client, Integrc > couldn't have done it without you! Loved every minute of it!