Writers, wine and planes ...
Published November 4, 2009 by Gillian Hunter
In June, on a flight to Johannesburg we were fortunate to nab the "escape hatch" seats. So, extra legroom. However, if you are broad of shoulder - then the bulk heads can really cramp your style.
That was the plight of our fellow-traveller. So, the better half, gallantly swapped seats. We got chatting - and it transpires our fellow passnger is a leading South African wine guru and writer.
Not that I /we know much about wine.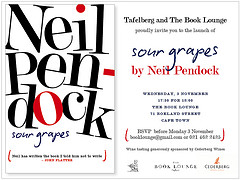 As thanks for the aisle seat - Neil promised us a copy of his latest book, sour grapes. It arrived last week an hour before we left for the airport for Dublin. The book had me hooting with laughter and cringing at my own lack of wine knowledge. I'm sure "sour grapes" has ruffled a few feathers too - which always makes a great read.
Anyway - it got me reading Neil's blog again and it's an inspiration.
Okay I think. How do you create a great blog that inspires people and gets them coming back time and again to read and dip in. Neil's style is touched with irony, humour, loads of valuable content, the who's who of the wine world aren't spared his pen.
Neil, is a great connector. He knows people. He knows stuff. He is, by definition, an expert. A guru. He is also very good at making connections between things. What he says is interesting, amusing, thought-provoking. And the words roll of his computer in a steady stream. Now, that's inspirational!
All great bloggers and writers seem to have this gift. If you can capture just a tenth of that energy to channel into your business blogs - people, I am sure, will come back for more.
Pendock Uncorked has been viewed over 740 times today alone - and that's before lunch! And, over 70,000 views for all time! Not bad, methinks!
But if you ask Neil, I'm sure he will say it wasn't always that easy. I'd hope so anyway. That he had to learnt the art of blogging by doing it over and over again. That he made mistakes. That it was about keeping a ear to the ground and understanding what interested and intrigued his readers and got them coming back for more ... it is practice, practice and more practice.
It is not just about writing skill - it is about having something valuable to say and contribute. About substance. The mark of a gifted writer. Neil Pendock is just about to publish a new book called "The Peoples Guide" - it is Platter, the South African wine guide, done blind. Sounds like a book destined to be dog-eared ...
Thanks for the book Neil - we'd swap seats any day for that read!