What We Do : B2B Customer Communications

precision-focused on your customer, market, segment or tribe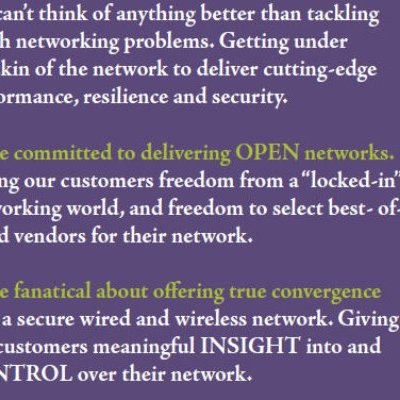 need someone to deliver powerful customer communications > a strategic bid, high-level customer engagement material? We're specialists in communicating the big picture: clearly, succinctly and powerfully.
precision-focused on your customer > whether that is one person or many. We unearth the unique dynamics: understand every decision maker and the role and influence of every stakeholder. That's before we even think about the message or the medium.
Understand your business in the round
Get to know your customers better than they know themselves
Gain insight into your market and the true competitive landscape
creative, thoughtful and pragmatic > what you get is a powerful combination of customer and market insight, creativity and pragmatic delivery.
More than insight, you get clear strategic direction. More than customer communications, you get meaningful customer engagement. More than words, you get a pragmatic delivery of powerful marketing ideas.
Strategic thinking that leads to clear strategic direction
Creative execution that engages your customer
Marketing ideas delivered with pragmatic power
professional, reliable and highly effective marketing > when you simply need someone to get on and do the job - quickly, efficiently and with the minimum of fuss. Someone with the expertise and experience to deliver your marketing project, your customer communications campaign, or run your marketing function: view services >
deliver for the big occasion > so, if you have a customer communications project that you can't afford to get wrong ... you can rely on us to deliver! We've helped clients land projects worth millions and on one occasion a project worth $1 billion. view testimonials >
get the job done properly > call on the services of an experienced Chartered Marketer (of over twelve years standing) with over twenty years experience of working for high-tech corporates and professional services organisations - covering product marketing, services marketing, corporate communications and business development: view portfolio >
Want results? Contact us to discuss your next marketing project.
Here's a taster of our most recent client feedback, comments and views:
"Absolutely first class - I never dreamed it would look and read this brilliantly."
"Thank you for this. It is a truly amazing first draft."
"Thanks for the superb turnaround on this - it's a great achievement - well done (and the client is ecstatic!)"
"Our session yesterday was inspiring; I felt inspired; you are inspirational."
"Thank you for your excellent work in turning this around so fast."
"Marketing should be considered an investment, but all too often, quickly turns into a cost. I have employed the services of various marketing "experts" during 15 years of trading, but rarely felt the money well spent. In your case, I expect we will save thousands of pounds, which to me is a true investment and time very well spent."